Dubrovnik, Croatia, become famous in recent years mostly because of the "Game of Thrones" a super popular TV series that was shot here, but is that why you should visit Dubrovnik?
Not at all! This old city (beginnings date back to the 7th century), has astonishing architecture, located right at the Adriatic Sea and at the bottom of the mountains. In this guide, I want to take you on an adventure to Dubrovnik, its Old Town neighborhood whose surrounding walls date back to the 13th century, and local attractions that you must try when you are visiting. I got a chance to be here for only 2 days but I took most of it, I will give you a full itinerary and option if you stay longer! Let's go!
Best time to visit Dubrovnik, Croatia
The best time to be in Dubrovnik is April to mid-June and mid-Septemeber to mid-October, at that date you can still experience good weather as well as fewer tourists, but you have to be aware that fewer tourists mean that there will be still a lot of people, but compare to peak season June, July, August it is considerably less. Later in this guide, I will have some tips and tricks for you on how to avoid crowds. On those dates prices will be more affordable, it will be easier to get to restaurants and you will enjoy the city much more.
Your travel guide map to Dubrovnik!
2 days itinerary (places to visit)
Day 1
I got to the hotel (Hilton) around noon and after a quick shower, I walked straight to Old Town through Pile Gate which is the west side entrance. You will be on Stradun Street, and you will realize that there are a lot of people! My tip on avoiding crowds is simply, just by taking any street to the right (South) you will find almost empty streets where you can find laundry hanging from the windows, noises of locals preparing lunch, and small restaurants and coffee shops, it is pure magic!
Walking to the South wall I found 2 "secret" places, one of them being Blaze Beach is it just small doors opening in the wall, an amazing place where you can grab the beer/drink and walk straight to the water! But there is one more place that I can't even find on Google, if you go west from Blaze Beach along the wall you will find another opening in the wall and similarly a bar and umbrellas where you can sit and relax with views of the Adriatic Sea and Old Town walls and Lokrum Island. What is best about this location is that you can actually jump into the water from the cliffs! So don't forget your towel!
From there I went back to the center of Old Town where I stopped for coffee, in Gianni one of many beautiful places here, all the places I mention in this guide can be found on the map.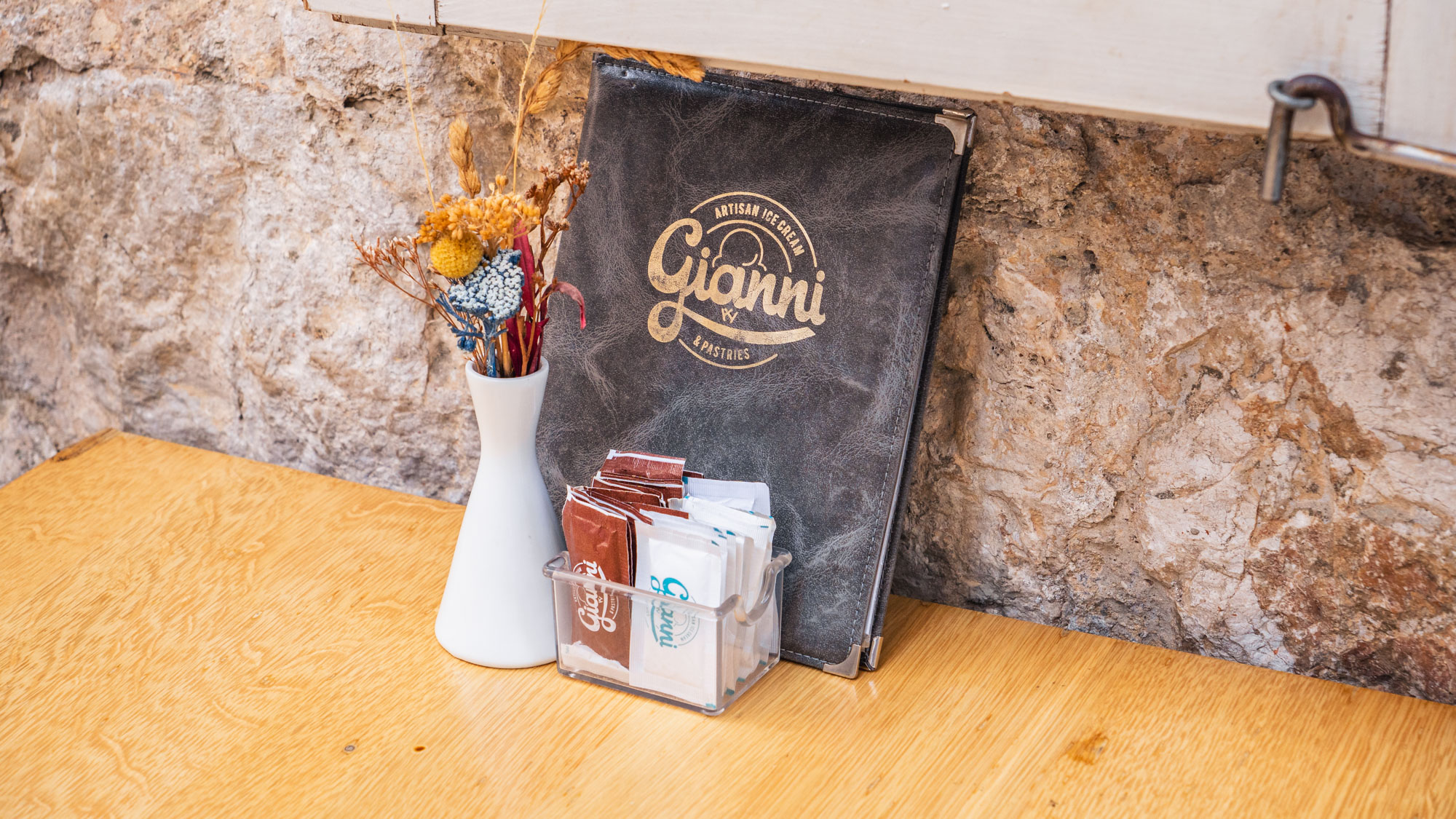 Don't be afraid of "getting lost", you won't regret what you can find!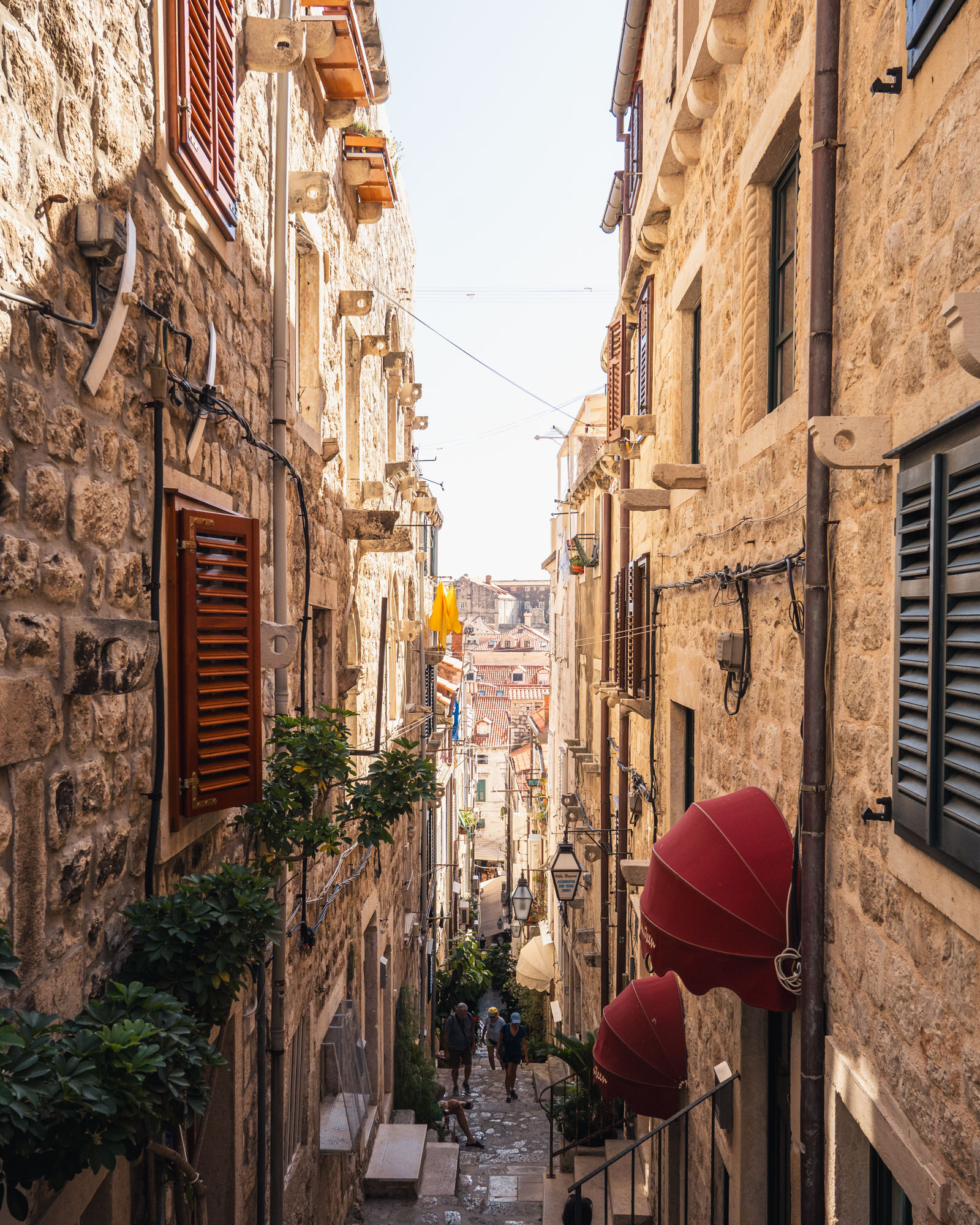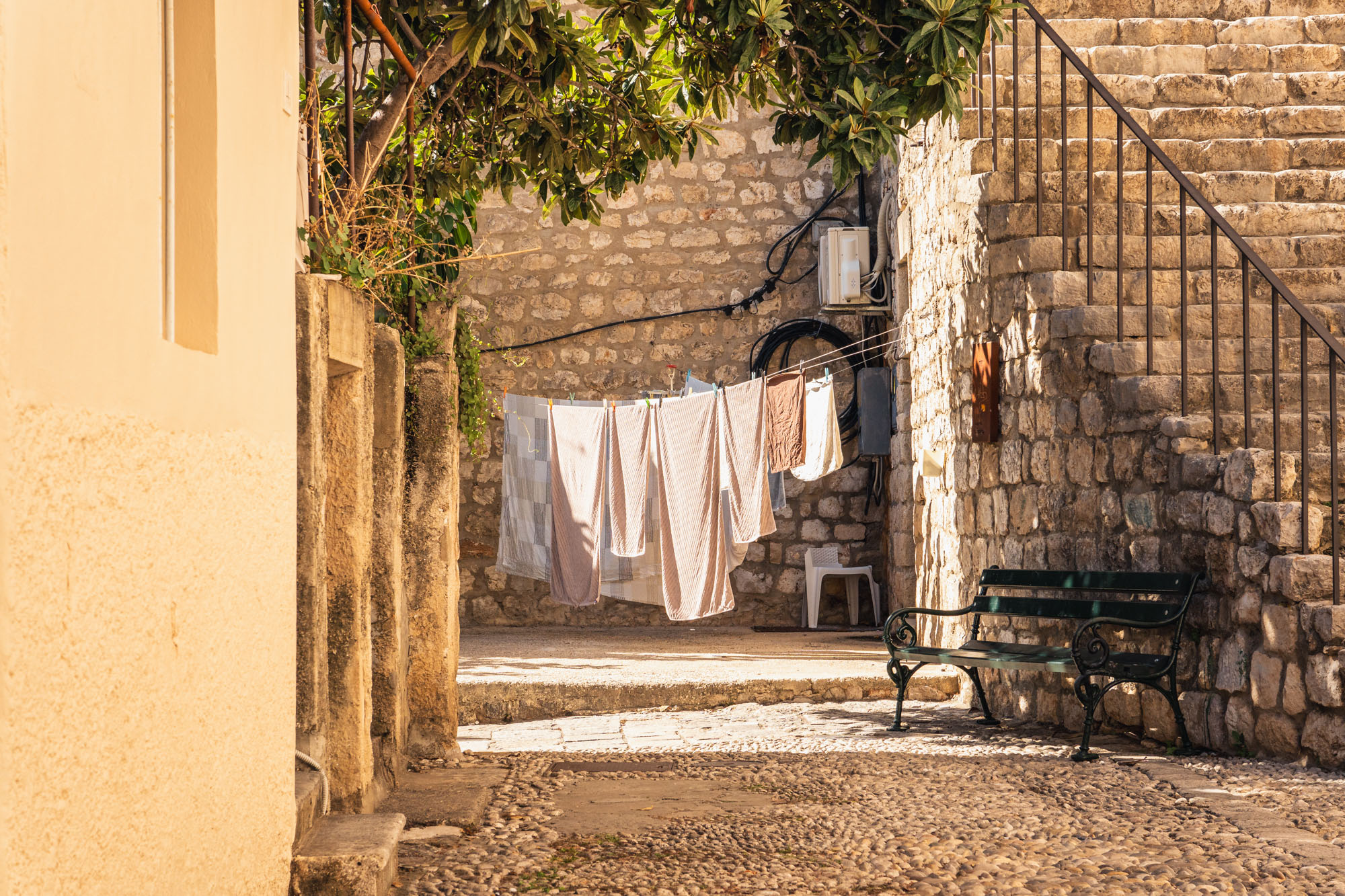 First day I focused 0n exploring Old Town and here are 2 restaurants I visited for lunch and dinner. Gradska Kavana Arsenal from Pred Dvorom Street side and in the evening Restaurant & Bar Rudjer.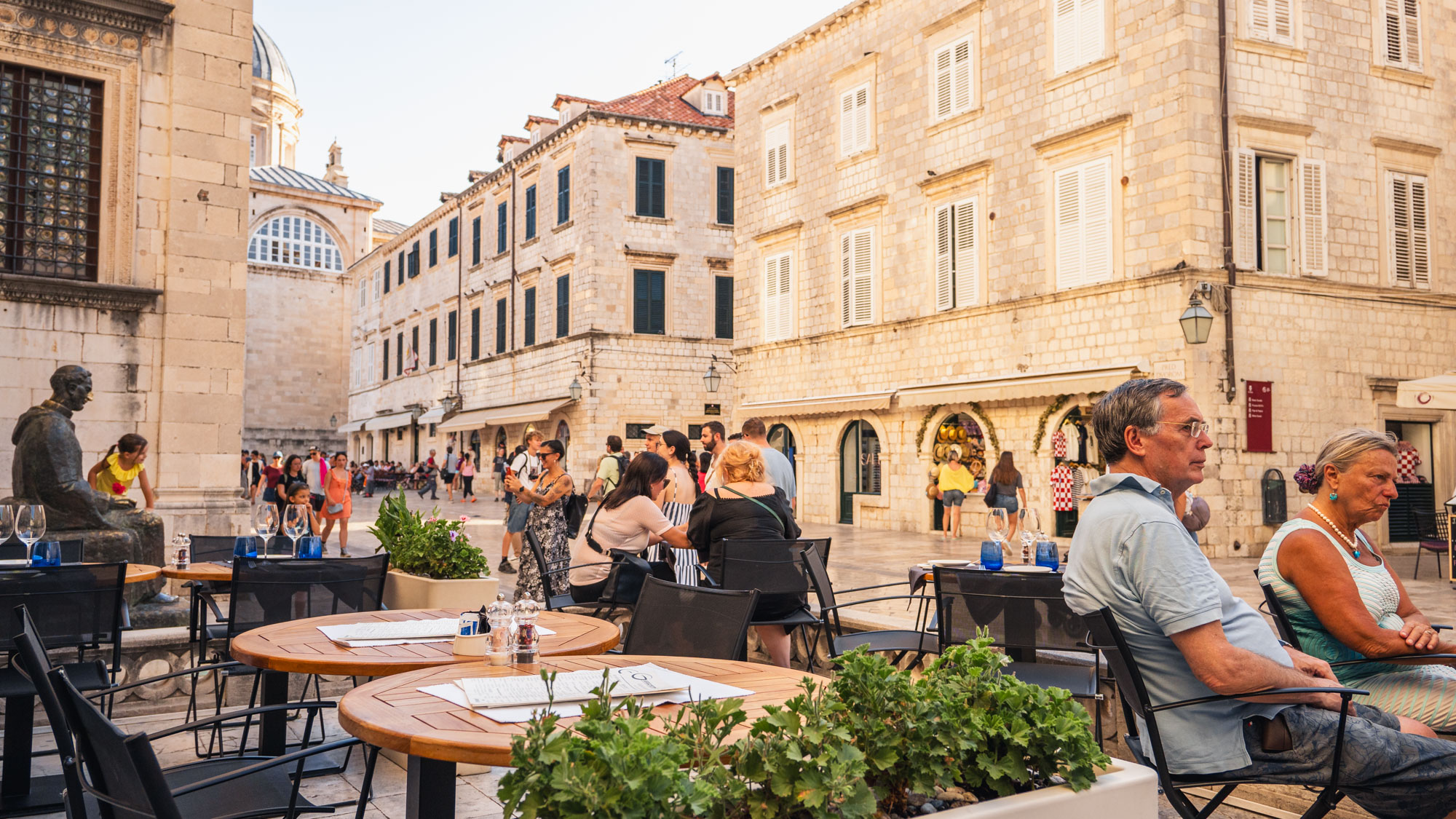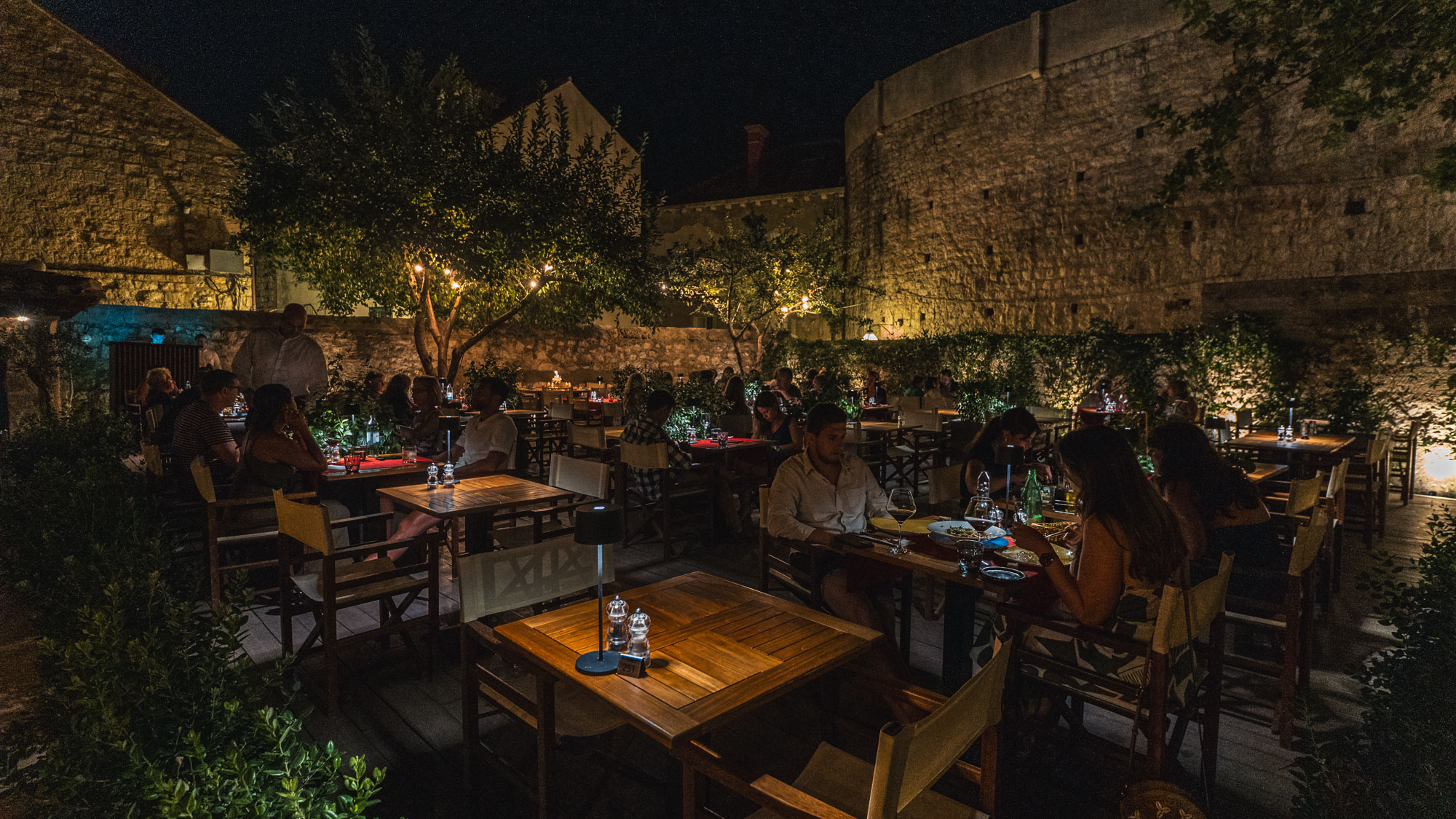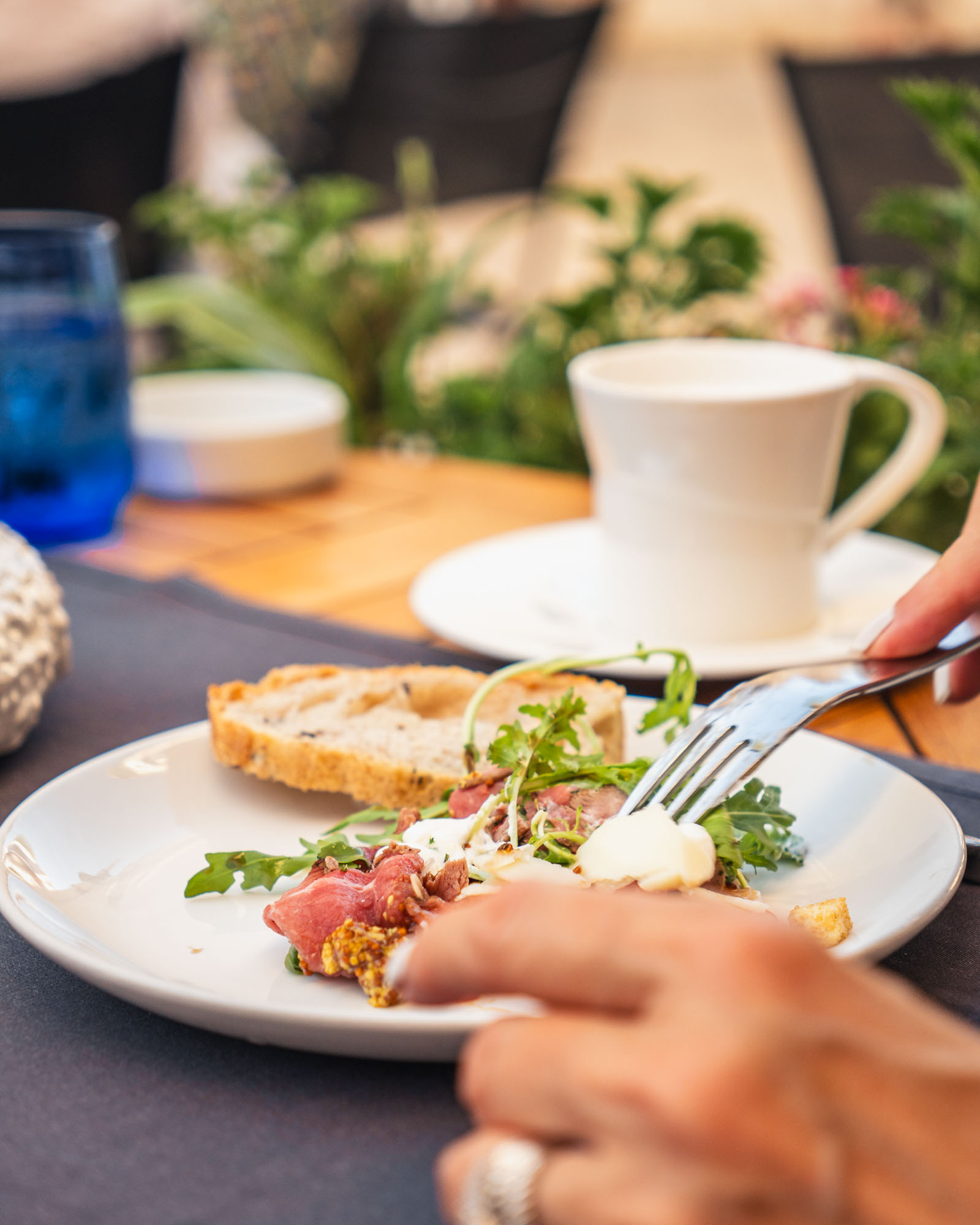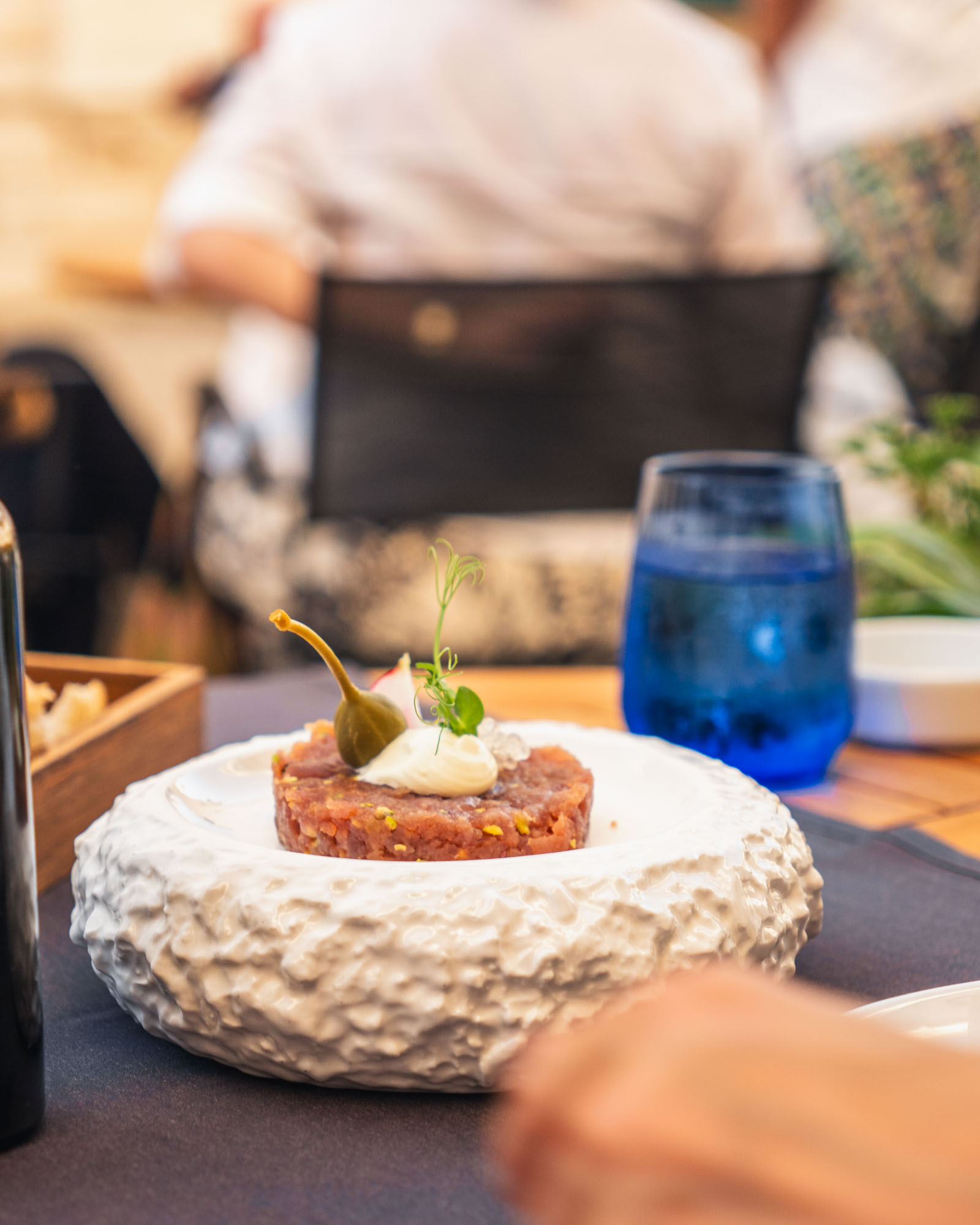 My first day ended with exploring Old Town at night and enjoying film-like sceneries. Strongly recommend exploring this part of the city when the crowds are a little smaller and the vibe is unforgettable, you can stay as late as you want! Who would thought that the second day would be even more exiting?
Day 2
I started bright and early to catch the sunrise and it was worth it, I got recommendations to go to Park Orsula, so I woke up at 5 am to be there around 6 am, right before sunrise to make sure I could get the best possible shots! Uber took me there in 15 min for $7.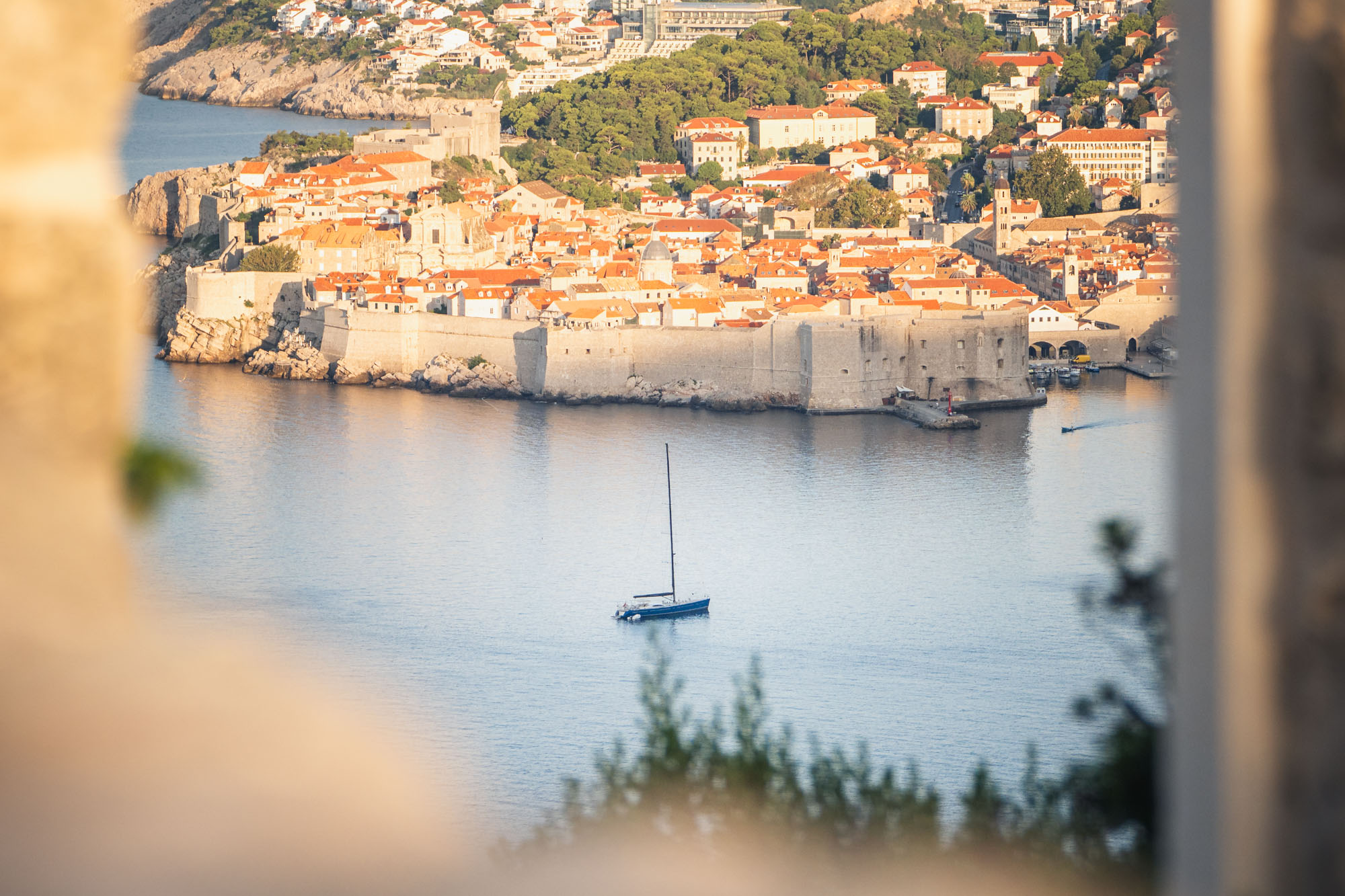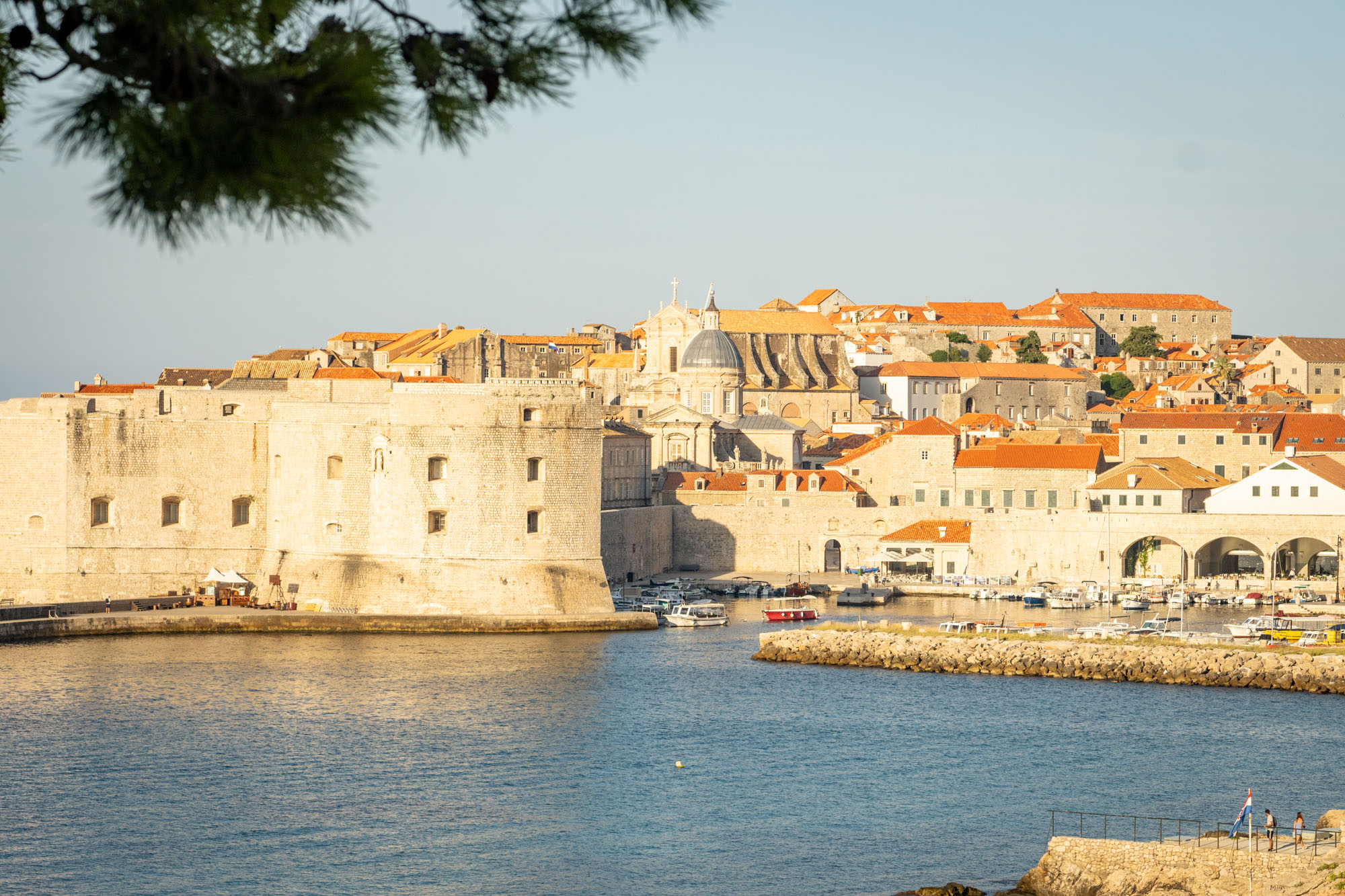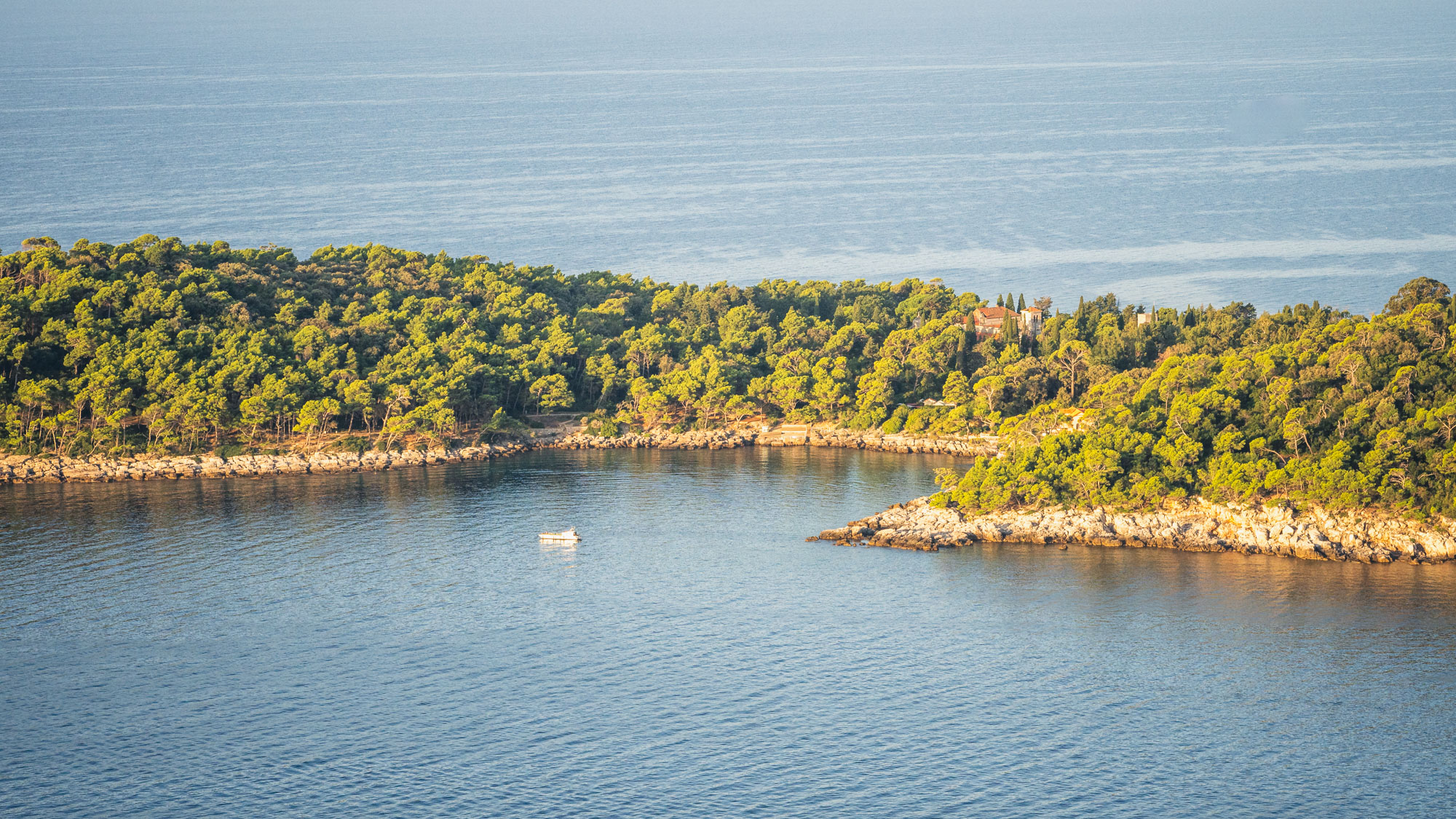 I simply walked back enjoying amazing views, and passing locals who were going to work and school, it was a great experience to get to know better the local culture. After getting to the hotel, and eating breakfast our next stop was Cable Car, you can get tickets here. Definitely worth it, great overview of the entire Dubrovnik surrounding islands and mountains, also you can also experience ziplining, quads, and more.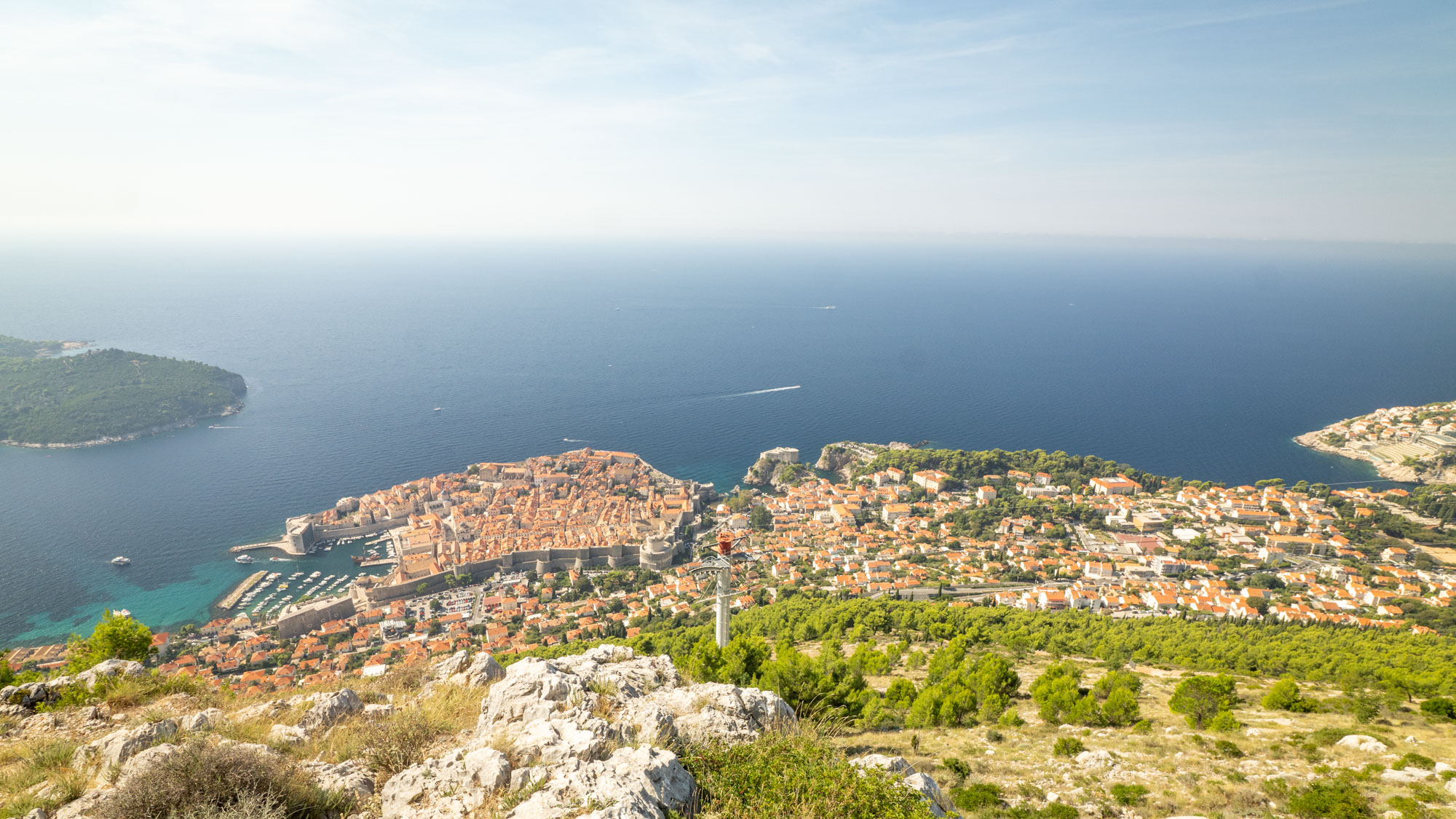 From there we decided to try kayaks, you can get to Kolorina Beach where you will find a few spots to rent kayaks, prices are 40€/ 2 hours for 2 person kayak, which allows you to go around the Old Town walls, and even get to Betina Cave, and that is definitely a destination that you want to get to, you can leave kayak there and jump to the water, cave itself is huge!
2 hours won't be enough to get to the Lokrum Island, you would need around 4 hours to go around the Island and you also need to be in good shape, make to to check what are the waves before renting kayaks!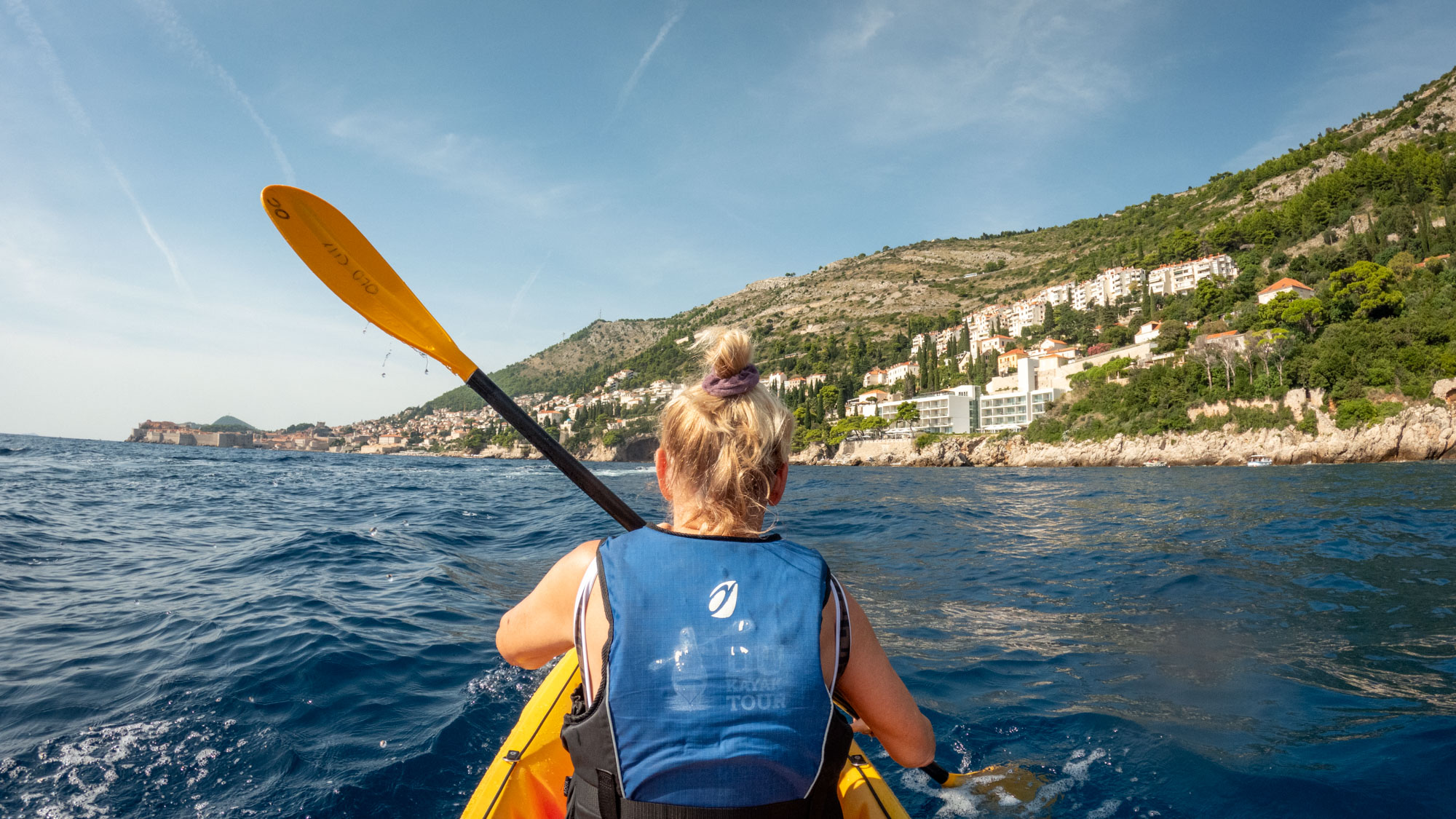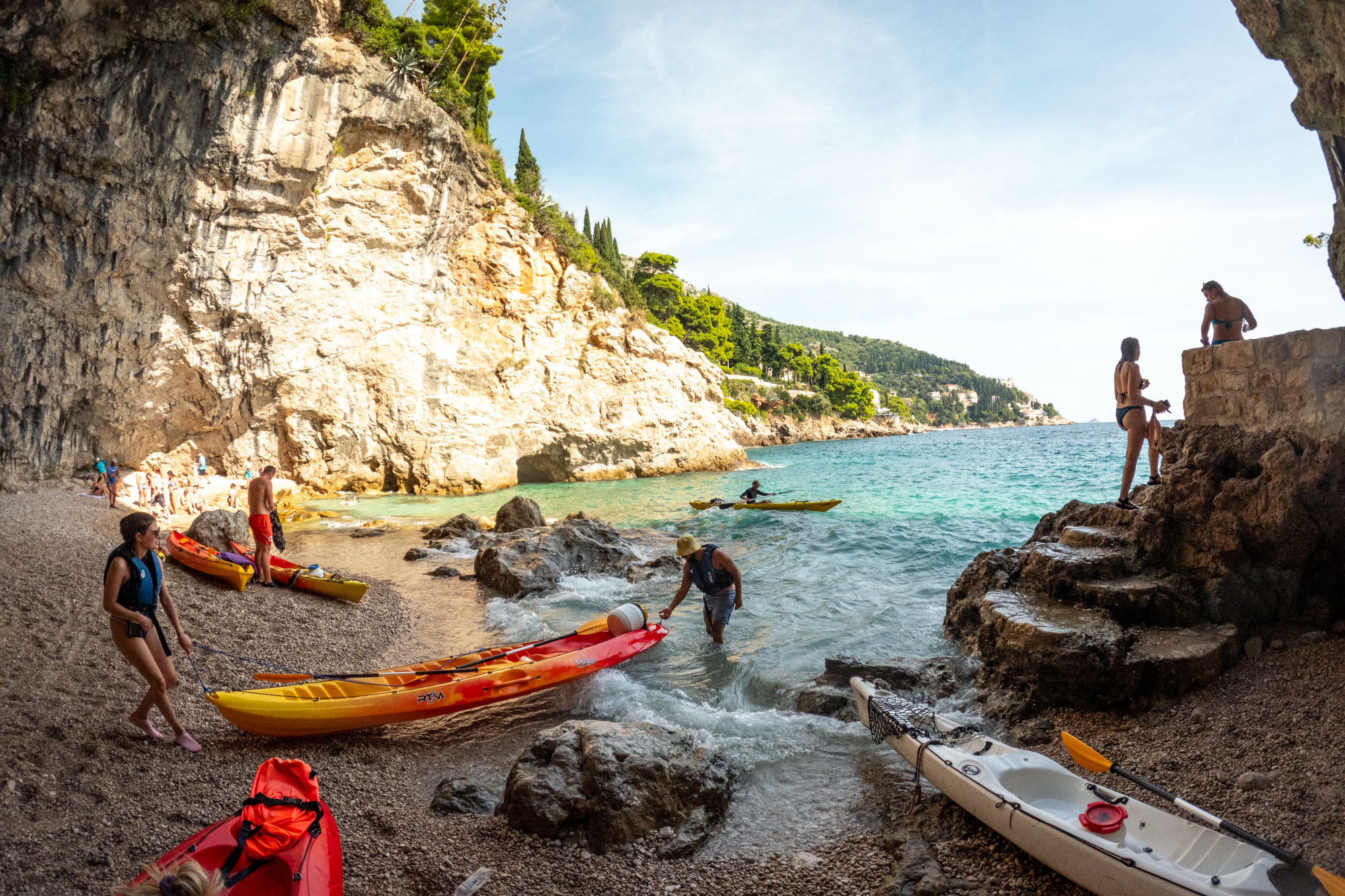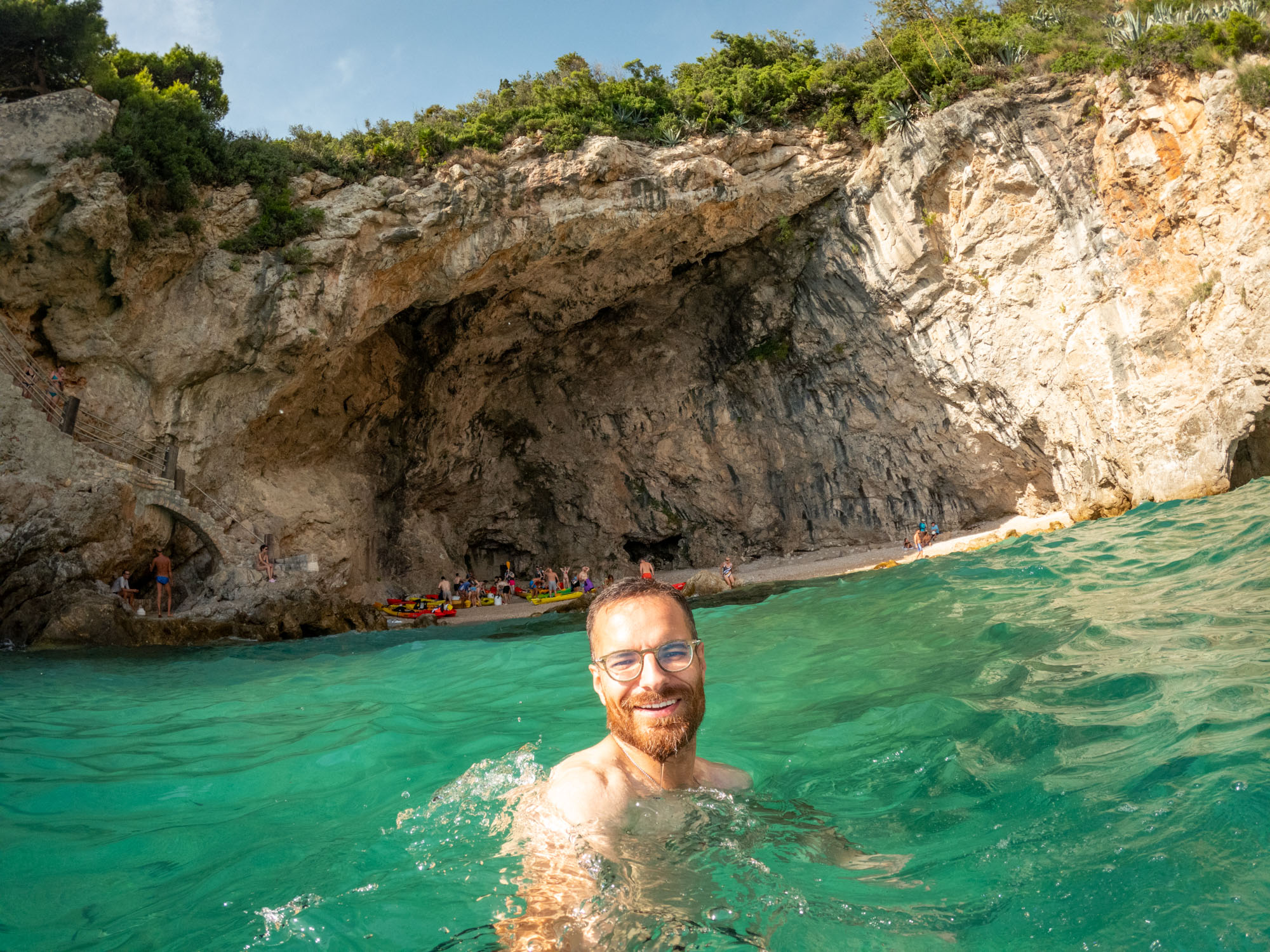 and that was not the end of our experiences with water, in the evening we took a sunset sail on a replica of the midcentury ship Karaka. It is a one-of-a-kind experience with complementary drinks, good music, and a history lesson, around 1.5 hours sail with views of the sunset, old town, and around Lokrum Island.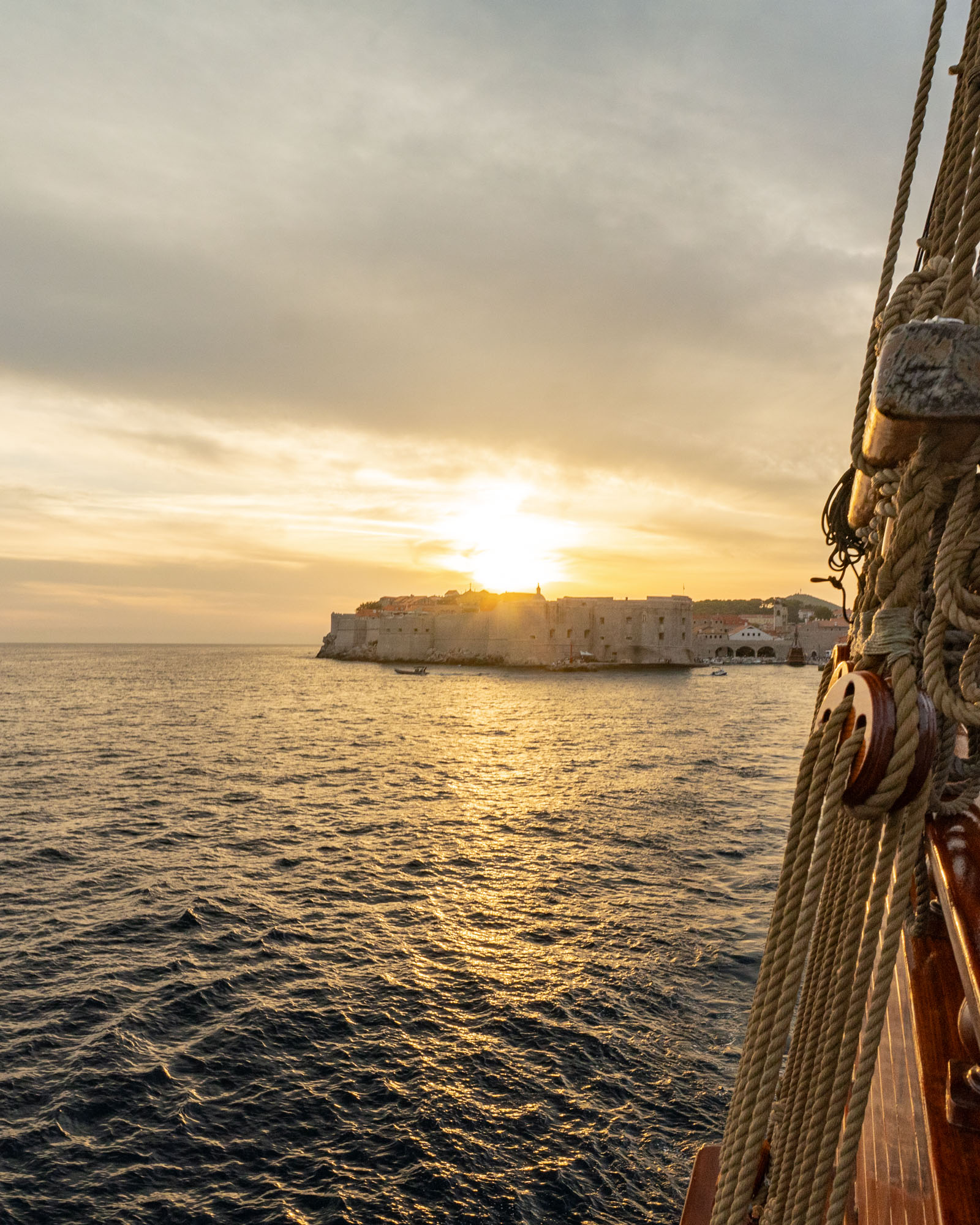 For dinner, we ended up in Gusta Me restaurant close to the east gates of Old Town.
It was a very intense 2 days but we took as much as we could from the Dubrovnik. Below you will find a list of places and experiences that I got a chance to visit, and also a few more recommendations if you have more time!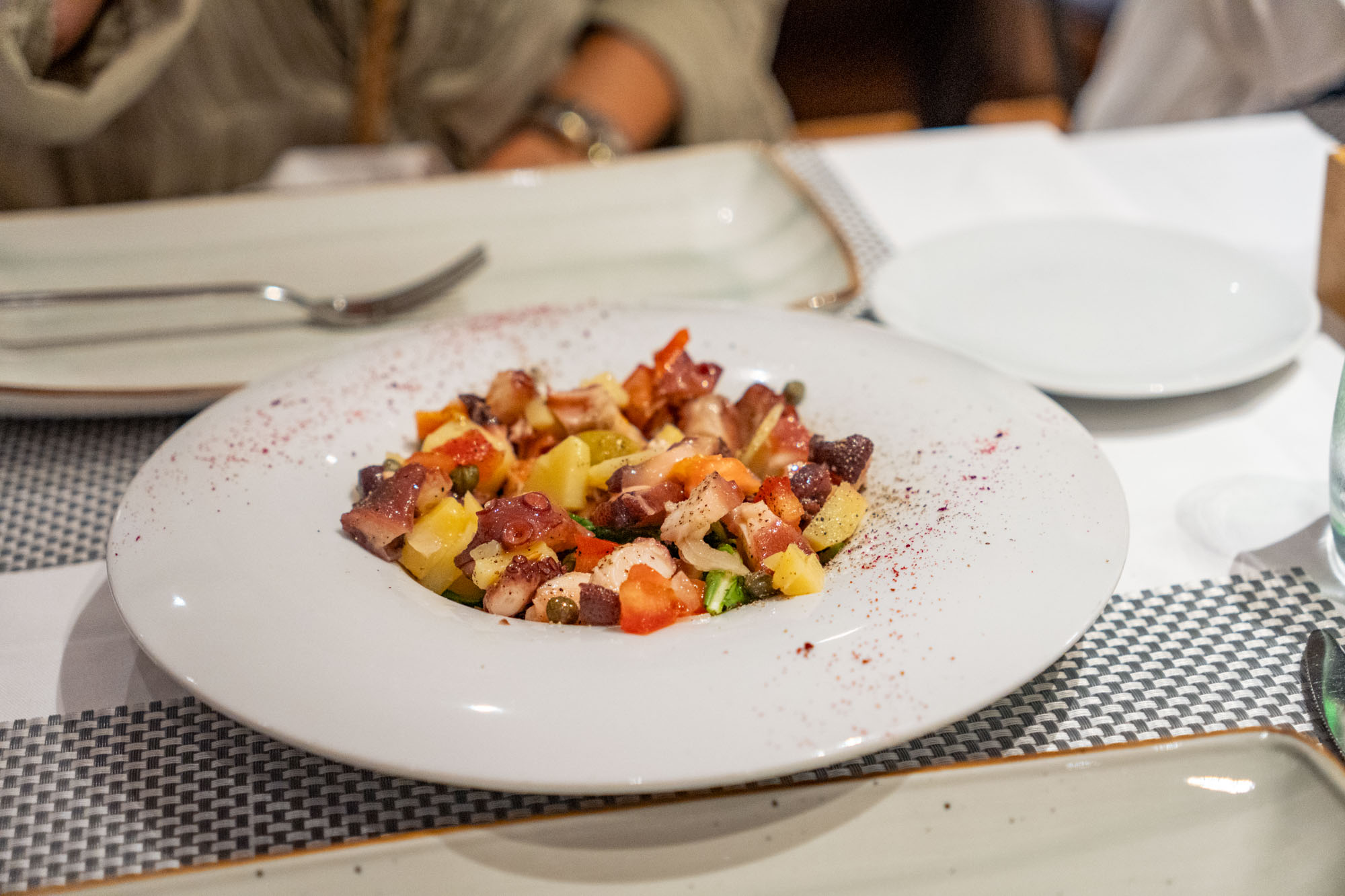 Where to stay?
1. Sun Gardens Dubrovnik
Sun Gardens Dubrovnik is a luxury seaside resort located on the Adriatic coast near Dubrovnik, Croatia. Nestled in a picturesque Mediterranean landscape, it offers upscale accommodation, including hotel rooms and residences, along with a range of amenities such as a private beach, multiple pools, spa facilities, restaurants, bars, and sports facilities. The resort provides a blend of modern design, stunning sea views, and a variety of activities for a relaxing and indulgent vacation experience.
Price: $150+
booking.com
2. boutique Villa Dorma
Villa Dorma is an elegant boutique guesthouse located in the heart of Dubrovnik's historic Old Town. This charming retreat offers a handful of beautifully decorated rooms, blending a timeless aesthetic with modern comforts. Guests can enjoy personalized service, a cozy atmosphere, and easy access to Dubrovnik's renowned landmarks, making it an ideal choice for travelers seeking an intimate and distinctive stay within the city's ancient walls.
Price: $175+
booking.com
3. Hilton Imperial Dubrovnik
Hilton Imperial Dubrovnik is a prestigious 5-star hotel situated just outside the historic walls of Dubrovnik's Old Town, Croatia. Housed in a historic building that dates back to the 19th century, the hotel seamlessly blends traditional charm with modern luxury. Guests can expect lavish rooms, upscale dining options, a rooftop terrace with breathtaking views of the city, a spa, fitness center, and a superb location that allows easy exploration of Dubrovnik's iconic attractions, making it an excellent choice for discerning travelers seeking a high-end stay in this picturesque destination.
Price: $400+
booking.com
4. Apartments Grgich
Apartments Grgich is a family-owned accommodation located in Dubrovnik, Croatia. Situated in a charming and peaceful neighborhood, the apartments offer a cozy and homely atmosphere for visitors. Guests can choose from well-furnished and comfortable apartments, providing a sense of privacy and convenience. The property's proximity to the city center allows easy access to Dubrovnik's historic attractions and local amenities, making it an excellent choice for travelers seeking a comfortable and convenient stay in this beautiful coastal city.
Price: $60+
booking.com
Conclusion
Dubrovnik is a dreamlike city where you can experience history, midcentury architecture, and great food, and also try outdoor activities. No matter how long you are coming, you can take advantage of any time you have here and explore the magical streets of Old Town. Remember that in the summer months, you will be here with many other tourists, try to visit in early spring or fall to avoid big crowds.  I hope you will have a chance to visit, let me know if you have any questions or concerns in the comments.