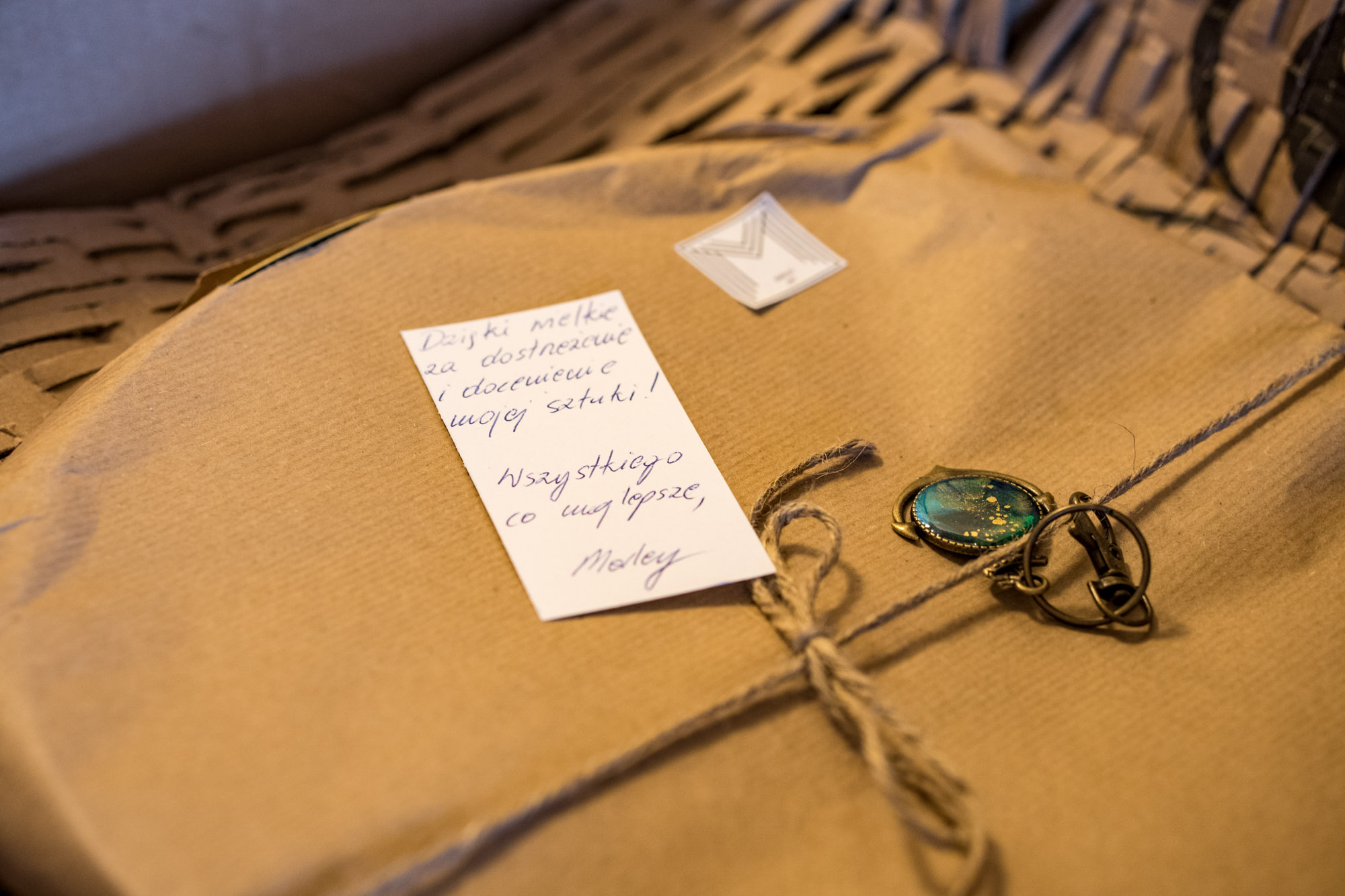 I just received the long-waited "Gold Circle Tray" from Marley Art. Marley and her husband Micheal are my good friends from Poland since my college years. (Look at this customs message, when you open the package).
I was watching Marley's account on Instagram for a long time, being so impressed with all her creativity and new products, which seem to get better and better even when you think they already perfect!
In November last year, Marley come up with the contest where you could win a coupon for her products, I couldn't resist.
The best comment on Instagram was one of the factors, how to become a winner. My sounds like this:
"You are a real inspiration on how to find your life path and passions! Amazing art created with the highest professionalism. Just seeing your products calms me down and associates me with making my dreams come true!"
I was so happy about taking the first price! After long searching of Marley's Etsy account, I finally decided on the Gold Circle Tray. Check the photos below (Marley's photos) to enjoy the beauty of color composition, finishes, and that feeling of tropics and ocean.
Was that the best choice? Let me know!
How Marley is actually changing the world?
She is taking her life into her own hands, she found something that she really loves to do and make the best out of it. Even without knowing it, she is an inspiration to many people. I am glad that from now, her piece of Art will be with me!
Description from Etsy:
A tray made from gold color steel, decorated with resin creates an amazing tropical beach look. This tray is multifunctional and can be used as a stand for candles, flowers, decorations, or for serving food and drinks.
It can be also an original gift.
This beautiful multifunctional tray will bring more colors to your life.
Technique: Resin, pigments
Size: 30×2.5 cm, 11.8×1 in.
Used materials:
• Resin:
– cruelty-free
– ASTM certificated non-hazardous and nontoxic, no VOCs
– UV resistant
– heat resistant up to 90°C
• Steel:
-Steel tray painted in gold mat
Use:
– should be washed with wet tissue or (if needed) under running water
– food can be served all over the tray (ASTM certificate)
– heat resistant (up to 50°C)