Introduction
Paradise! That is the best one-word description of Oahu Island in Hawaii, I had the enormous pleasure of spending a week with 2 of my friends, hiking, snorkeling, drinking coffee, and much more! And today I want to share with you my observations, what to do, and what to avoid. Also, give you a 7-day itinerary so you can plan your perfect trip! Don't forget to download the free packing list (PDF), and let's go!
Best time to visit Oahu
The ideal periods for a trip to Oahu are from mid-April to early June and from September to mid-December. These shoulder seasons offer fewer crowds at attractions, abundant festivals, and the most budget-friendly airfare and accommodation rates.
7-day itinerary
Day 1
Depends on the time you fly in, but I would definitely go to the closest beach to catch the sunset, we went to Magic Island which has a great beach with peaceful waters Ala Moana Beach. The park has a lot of parking places and spots for picnics. I like to relax on the first day so we spent a few hours at the beach, but it was also a great time to do grocery shopping in the evening so we had breakfast the next day :). Safeway is the best supermarket chain where you can get food, don't forget to make a membership, you will save some money!
Day 2
My second day started bright and early, around 4:30 a.m. (easy to wake up with 5 the time difference from Chicago). I wanted to catch the sunrise at Koko Head (directions to the parking), if you are there that early you can expect park gates to be closed, but it is totally fine to park on the street and just hike a few hundred yards more.
Warning! 
Koko Head Trial is a hard hike, definitely doable but keep in mind you will be climbing 1048 steps on an old railroad, you have to stay focused and be in decent shape, take water and some snacks, it should take you around 30-60 min to the top. Be very careful walking down!
The view is totally worth it! Tough no sunrise for me!
After the hike it was time for coffee, I visited one of many locations of The Coffee Bean & Tea Tea Leaf, it was good but there are even better coffee shops coming!
My next goal was to explore the South-East Coast, and I have some recommendations for you, definitely worth stopping at China Walls, but an even better place is Spitting Cave (you will find out where its is name from ;)), you have to park on the street and there is only narrow path between houses, you won't find a lot of people there, definitely worth checking out, I captured amazing sunrise on last day on Oahu!
Going farther the coast is just breathtaking.
Stopped and this paradise-like beach with enormous waves
Warning!
Be careful entering the water with such big waves, even professional swimmers can have trouble with such strong currents.
on the way back stopping for fresh coconuts and dragon fruits, which were the best I ever had. Remember to always ask for pricing before you buy it.
Day 3
Started again with the goal of catching the sunrise, this time a plan was to hike to Lanikai Pillbox, the hike is short but technically hard and the views are amazing (seems like every hike in Hawaii!). Sunrise was founded :).
Pearl Harbor was next on the list, it would be hard to imagine visiting Oahu without stopping here, with a lot of memorials, museums, and history to learn. The sights of American Navy ships will impress everyone.
Another amazing day in Hawaii, it is interesting that almost every day it will be raining in some parts of the Island (mostly the center where the mountains are), and just a few miles to the coast you will have perfect weather. You can take a rain jacket with you, luckily temperatures are still high.
Day 4
Hello to day 4! The main goal for today was to go snorkeling and one of the best places is Shark's Cove on the North of the island around a one-hour drive from Honolulu. But the day started with a hike to Diamond Head, which is the most popular hike on the island but for me it is overrated, it is a very easy hike that you have to pay for and you will be walking with hundreds of people. Of course view was stunning, but that is something you can have anywhere in Hawaii for free!
Of course, after that, we head straight to another coffee shop, this time The Gallery Waikiki, I can highly recommend it, with good food and good coffee in the most popular neighborhood, Waikiki.
Now we are ready to head out to Shark's Cave as it took us a bit of time we made another "pitstop" at Green World Coffee Farm, which was definitely a great choice, we came back later in the week. It is a farm and a big coffee shop with a merchant shop, a lot of people stop there, you have to check it out!
Chickens are part of the landscape on Oahu!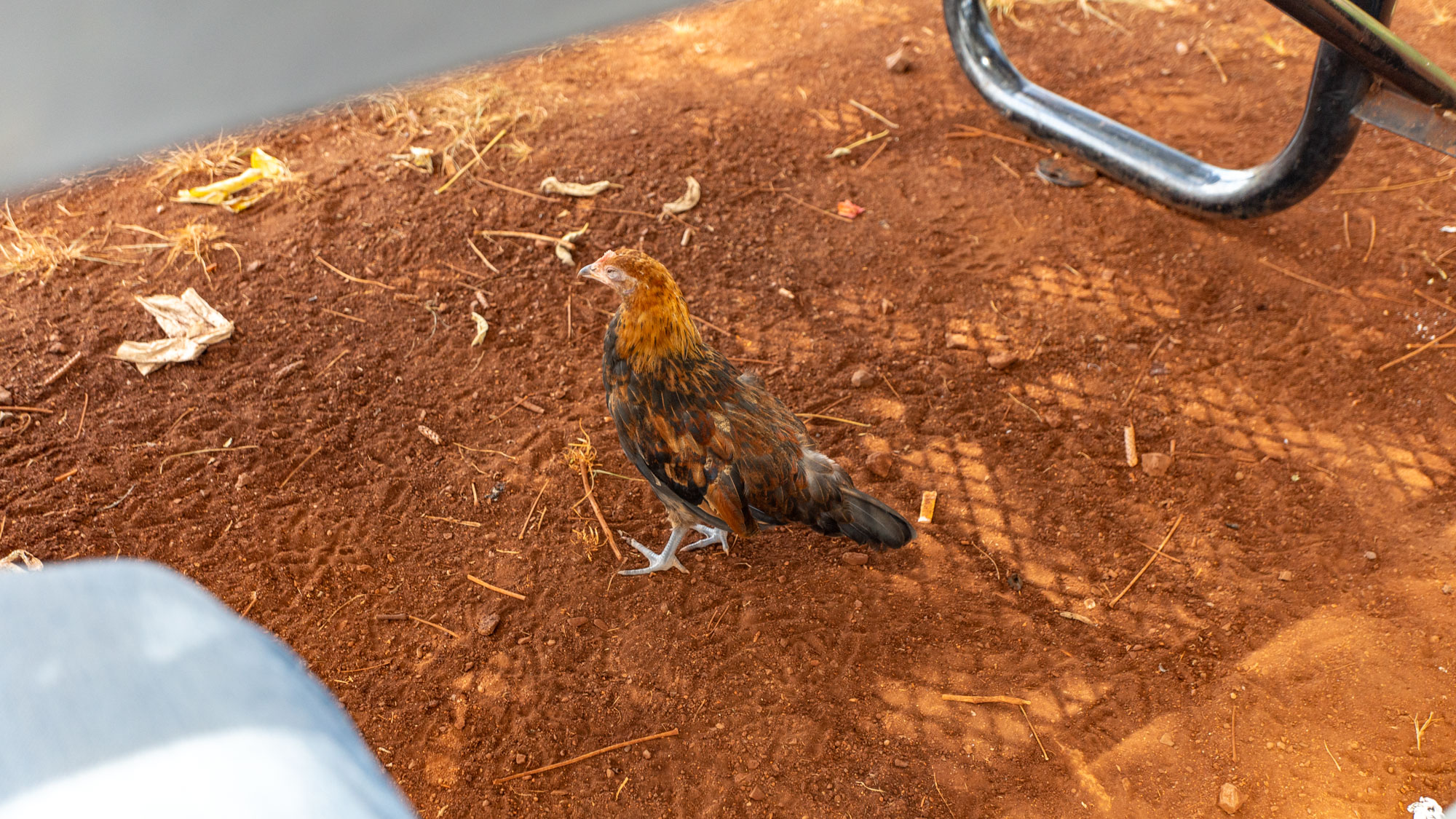 We finally get to Shark's Cove and spend the rest of the day there, I recommend North Shore Surf Shop if you want to rent snorkeling gear, it was only $20 for a set that included shoes for the entire day. We had an incredible time, though there are a lot of rocks (that's why they give you shoes) but you can spot hundreds of fish and even swim to a deeper part of the bay where you will see 20-30 feet deep!
Just look at that…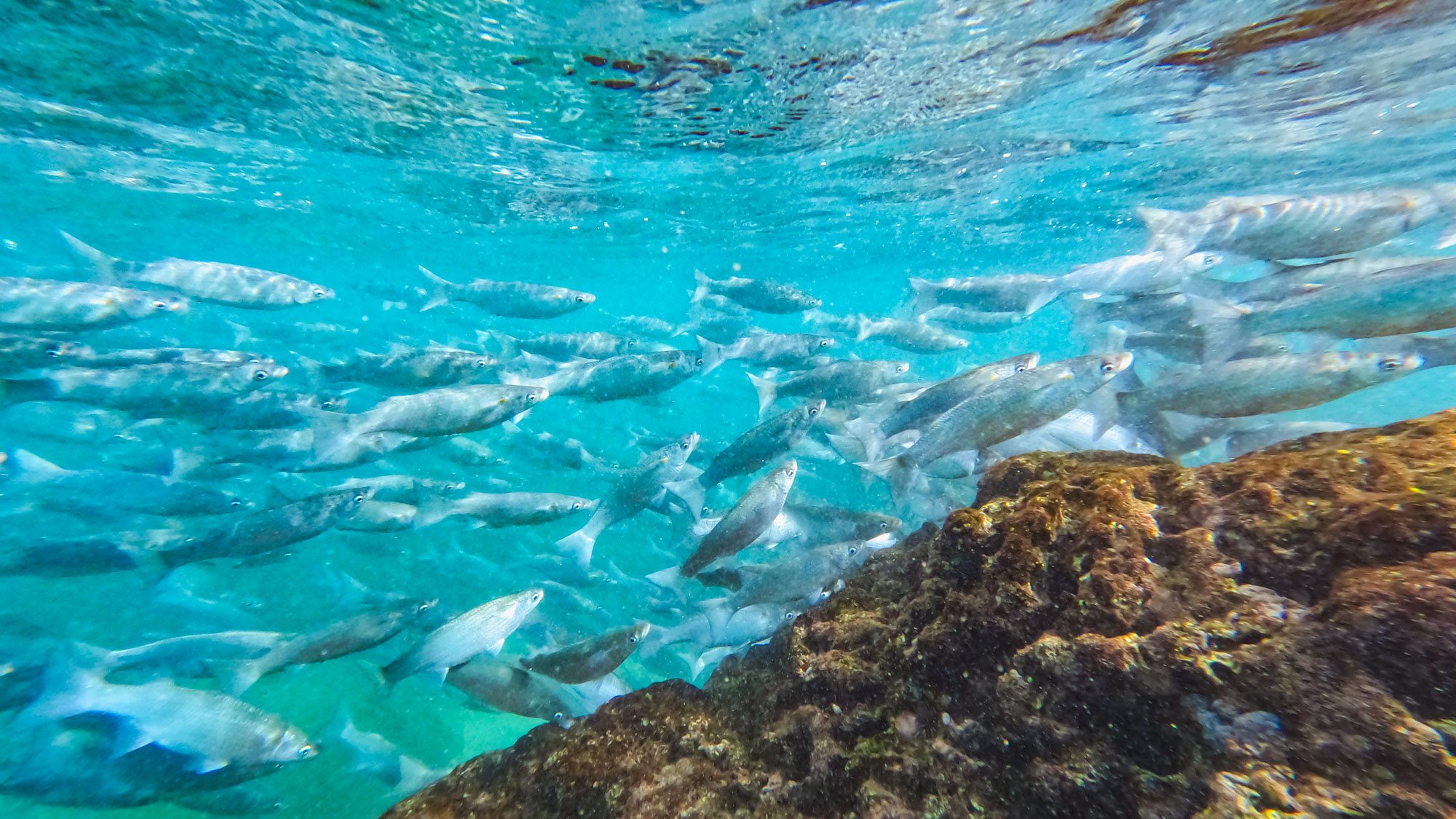 Day 5
Like most of the days, we start with coffee! Cafe Daisy is located in the lobby of a residential building, a very fancy place, I really enjoyed the ambiance, coffee, and pastry.
After that visited Chinatown, it is definitely much better than in Chicago or Philadelphia, huge market and a lot of restaurants where you can buy literally anything, It has its own specific vibe that I think is worth checking out, and also you can do your grocery shopping.
One of the free museums Capitol Modern Museum is located not too far from Chinatown, so you can take a walk exploring the city and visiting the museum that will feature modern artists from the University of Hawaii and more.
The day ended on the wildest beach I have ever seen, Halona Beach Cove is a little hidden place where you have to walk down from Halona Blowhole Lookout to access a little beach with narrow access to the water, waves will be perfect to have some fun but you have to careful with surrounding rocks! You can even jump from the rocks to the water!
Magical place!
Day 6
Guess where are we starting today? You are right! Another coffee shop this time Honolulu Coffee Experience Center, is must must-visit place where you can experience roasting "live". Big place with a lot of tables in and outside.
Are any Dragon Ball fans here? Do you know Son Goku and his famous Kamehameha? (Definitely let me know in the comments!) It was inspired by King Kamehameha from Hawaii! You can find a statue of King Kamehameha V here.
On our way to Monkeypod Kitchen very fine restaurant in Waikiki we stopped for another sunset, which you can't get enough. I realized that it is actually very unique to have sunrises and sunsets over the water in the same city!
I can definitely recommend the Monkeypod Kitchen it offers great food and decent prices, access to the beach, and ocean view!
Day 7
The last day was hard! It felt like leaving paradise, but we need to come back home so we could plan other adventures. This day started in an epic way, I experienced the most beautiful sunrise ever, and it was back to our secret place Spitting Cave, just look at that!
After experiencing such a beauty it was time for coffee :), Island Brew Coffeehouse is one of those coffee shops that absolutely feel like Hawaii!
And it was not the end of the adventures, luckily the flight was in the evening so I and my friends were able to drive to North Shore again specifically to Turtle Beach which is part of the Turtle Bay Resort, the most beautiful place to stay in Oahu.
It is accessible to the public, you can enjoy the beach, snorkeling, surfing classes, or even helicopter tours!
That was an amazing 7 days in paradise, and it was still not enough time to visit all I wanted, like the Olomana Mountain hike, Hanauma Bay, or Kualoa Ranch where Jurassic Park was shot! Below I will give you the ultimate list of places and experiences you should visit so you can plan your perfect trip.
Conclusion
I totally fell in love with Oahu, it is amazing how people settled in Hawaii over 1,000 years ago. It was a great experience only visiting Oahu it felt like there is always something new to discover, and even coming back to the same places was amazing. I believe that everyone should visit Hawaii at least once in their lifetimes. Living here is more expensive than in other parts of the USA as almost everything needs to be important. The main income for the economy is tourism, so we definitely should support it to keep this natural beauty and locals in good shape!
Let me know if you have any questions in the comments. Aloha!